At 8:00 a.m. on July 13, 2020, WANCE Wuhan R&D and manufacturing facilty held a trial operation ceremony, marking that Hubei Wance Testing Machine Co., Ltd. will officially put into production and operation from today after three years of construction.

In order to get Wuhan new facility on the right track as soon as possible, Shenzhen WANCE sent 16 backbone employees to Wuhan as the first team, and held a farewell party at the factory gate at 16:00 on July 9. The atmosphere on the scene was very warm. Ms. Fang Xianming, vice President of sales, made a speech, wishing the development of WANCE to a higher level.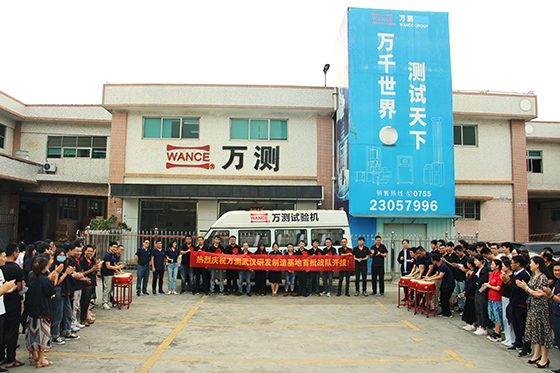 After three years of preparation and construction, at 8:00 a.m. on July 13, all employees of Hubei WANCE participated in the trial operation ceremony and took a group photo to celebrate the first phase of Wuhan R&D and manufacturing Base of WANCE. Mr. An Jianping, chairman of the board, also made a speech on the construction process of Hubei WANCE, the work of future employees and the development of the company.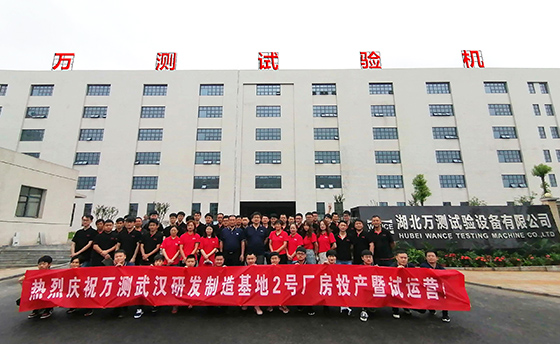 WANCE Wuhan is located at No. 6, Hejia Hunan Street, Daqiao Industrial Park, Jiangxia District, Wuhan city, Hubei Province, with a total construction area of 30,000 square meters. At present, it is no. 2 and No. 5 plant in the first phase of the project, and the second phase of the project will be put into use in the near future.The base surrounding supporting facilities are complete, convenient transportation and logistics conditions, warmly welcome new and old customers to visit Hubei WAMCE.
The trial operation of Wuhan WANCE marks that WANCE will combine the advantages of Shenzhen and Wuhan two major R&D and manufacturing bases, further expand production capacity, meet the market demand, and better develop and produce high-quality testing products for customers. WANCE has also stepped into a new development journey since then.