1. The definition of steel strand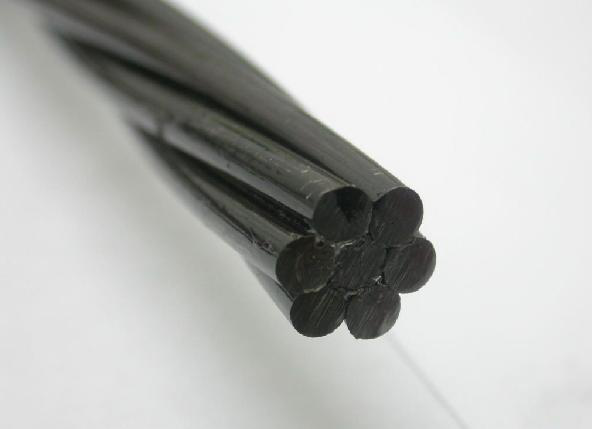 Steel strand is composed of several steel products twisted steel wire, carbon steel surface can be added according to the needs of galvanized layer, zinc aluminum alloy layer, aluminum coating, copper coating, epoxy resin coating.
2. The classification of steel strand

According to the usage classification: the prestress steel strand, (electric power) galvanized steel strand and stainless steel strand, among which the prestress steel strand coated with anticorrosive grease or paraffin-coated HDPE is called unbonded prestress steel strand, the prestress steel strand also has the galvanized or galvanized aluminum alloy steel strand.
According to material characteristics: steel strand, aluminum - clad steel strand and stainless steel strand.
According to the structure classification: the prestressed steel strand can be divided into 7 wires, 2 wires, 3 wires and 19 wires according to the number of wires, the most commonly used is the 7 wire structure.Galvanized steel strand and aluminum-coated steel strand for electric power are also divided into 2, 3, 7, 19, 37 and other structures according to the number of steel wires, the most commonly used is the 7 wire structure.
According to the surface coating layer classification: can be divided into (smooth) steel strand, galvanized steel strand, epoxy coated steel strand, aluminum coated steel strand, copper coated steel strand, plastic coated steel strand, etc.
3. Application of steel strand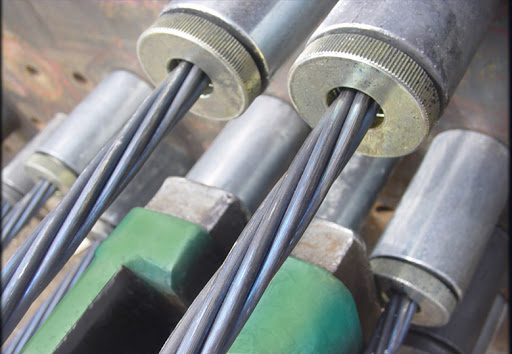 Galvanized steel strand wire usually refers to used for bearing cable, cable, reinforcement core, etc., but also can be used as overhead transmission line, highway on both sides of the blocking cable or structural cable in the building structure.The commonly used prestressing wires are low-relaxation prestressing wires without coating or galvanizing, which are often used in Bridges, buildings, water conservancy, energy and geotechnical engineering, etc. Unbonded prestressing wires are often used in floor and foundation engineering, etc.
4. Steel strand test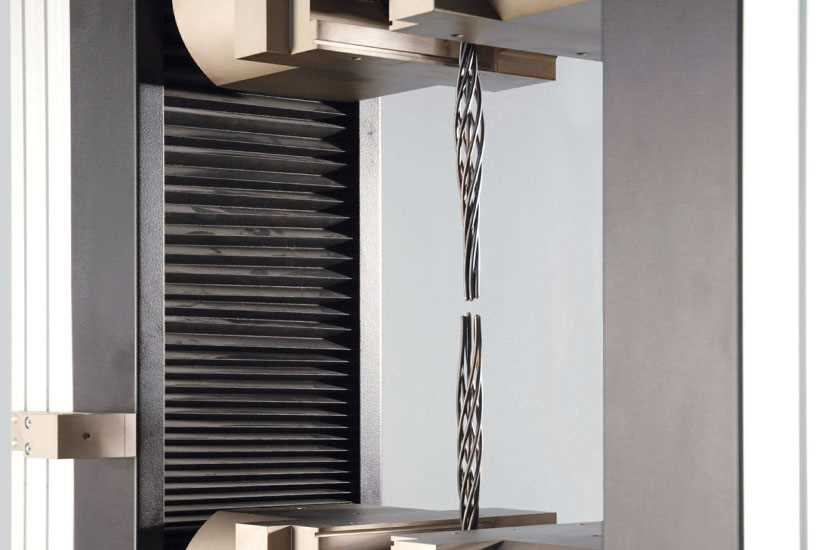 Steel strand and its connectors are an essential material in construction engineering. The detection of steel strand and its connectors is directly related to the quality and safety of construction engineering. Therefore, it is very necessary to detect steel strand.
The test items of steel strand include tensile test, external dimension, straightness of steel strand, relaxation rate, elastic modulus and so on.
Stranded wire tensile testing machine
Load frame
Ø Specially designed longer jaw face for tensile test of stranded steel wire
Ø Lead screw driven crosshead to adjust the test space
Ø High-Stiffness 6-column load frame design incorporates 3-position crosshead, adjustable specimen positioning, precision guide columns, thick crosshead and base beam minimizes load frame stored energy while producing reliable, stable, accurate load, strain and modulus values.
Ø Ergonomically designed load frames ensure safety, reduce operator fatigue, and provide the highest
Ø Standard Dual Zone Test Space for reducing setup time
Ø "Quick Return" hydraulic valve for higher throughput
Ø Automatic limit checking for crosshead position, overload, over temperature, over voltage, etc.
Ø The system can return automatically, the oil cylinder can return the original position via manual or automatically after finishing testing
Ø Positive specimen holding is ensured by the wedge action of hydraulic operated grips
Ø Imported encoder mounted on the seat is for position measurement of crosshead with high accuracy
Ø Imported servo valve provides high stability and reliability

Specifications:

Model

HUT106

Type

C

Capacity (kN)

1000

Calibration accuracy

Class 1 / Class 0.5

Force accuracy

Better than ±1%/±0.5%

Force range

1% ~ 100%FS

Extension range

1% ~ 100%FS

Extension accuracy

Better than ±1%/±0.5%

Extension resolution

1/500000 of max extension

Actuator (piston) speed (mm/min)

0 ~ 90

Middle crosshead speed (mm/min)

310

Force loading speed

0.02% ~ 2% FS /s

Column number

6

Column spacing (test space width) (mm)

450

Maximum tension space (mm)

1000

Maximum compression space (mm)

900

Diameter of stranded steel wire (mm)

Φ 9.5 ~ Φ 12.7, Φ 12.7 ~ Φ 15.2

Φ 15.2 ~ Φ 18

Diameter of round specimens (mm)

Φ 10 ~ Φ 18mm, Φ 18 ~ Φ 28mm

Φ 28 ~ Φ 45mm

Thickness of flat specimens (mm)

2 ~ 20, 20 ~ 40

Compression platens (mm)

200×200

Actuator (piston) stroke (mm)

250

Hydraulic Power Unit dimension (LxWxH) (mm)

1150×600×900

Hydraulic Power Unit weight (kg)

340

Oil tank volume (L)

75

Flow rate (L/min)

5

Frame dimension (LxWxH) (mm)

1020×670×3050

Machine weight (kg)

4200

Power requirement

Three-phase, 5-line, 380±10% VAC, 50Hz

Power consumption (kW)

4

Main cylinder hose length

2.6m x 1

Upper cylinder hose length

4.2m x 2

Lower grip hose length

3.55m x 2
Stranded wire stress relaxation testing machine
Function
This series of product are widely used for metallic materials (Stranded wire, PC Steel bar, Steel wire) mechanical property test of tensile stress relaxation.
Typical specimens: Stranded wire, metal wire, PC Steel bar.
Standards: ASTM E328, GB/T 10120, AS 4672, ASTM A416, ASTM E328, BS 5896, MS 1138.
Deformation measuring unit
l cThe unit is used for real-time measurement of deformation in the gauge length of the specimen.
l After the specimen is clamped, a certain pre-tightening force is applied to straighten the specimen, and then the measuring unit is placed in the middle of the specimen, and the measuring gauge length is adjusted by moving the fixed block (the range of gauge length adjustment is 100-1000mm), and the left and right fixed blocks of the measuring unit are bound on the specimen with rubber bands or other elastic strings.
l Adjust the position of the grating ruler so that the grating ruler probe is against the right fixing block and the probe is pressed into three quarters. After completing the above steps, the test can be started according to the test requirements.
Model

MSR305

Capacity (kN)

300

Force measurement range

(2%-100%) F.S.

Force accuracy

Better than ±0.50% of reading

Force resolution

1/500000FS

Load cell creep

30 minutes, ≤0.02%F.S.

Extensometer gauge length (mm)

100-1000

Extensometer extension range (mm)

0-15

Extension accuracy

Better than ±0.50% of reading

Position resolution (µm)

0.01

Position accuracy

±0.5%

Crosshead speed range (mm/min)

0.001~20

Force rate range (kN/s)

0.1~10

Force rate accuracy

±0.5%

Temperature resolution

0.1℃

Temperature accuracy

±0.3℃ (-20℃ ~ 80℃)

±0.5℃ (-40℃ ~ -20℃, 80℃ ~ 110℃)

Crosshead travel (mm)

0~100

Test space

2250mm

Specimen dimension

Stranded wire diameter: Φ12.7mm,Φ15.2mm, Φ17.8mm

Length≥2.4m

Power supply

Single-phase, AC220V±10%, 50Hz, 850W

Dimension (mm)

2480×400×1200

Weight (kg)

600kg